No Limits-just come!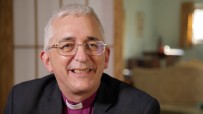 The Enabling Church: No Limits day conference is coming this Saturday – 12th November – at Friends House, London, opposite Euston Station. There is a still space! Come along – tickets will be on sale at the door – price £25. Doors open at 9:30am. Be there!
You can still buy tickets online at http://enablingchurch.eventbrite.co.uk. The day will kick off with a welcome message from Bishop Michael Ipgrave (pictured). This is a great opportunity for anyone interested in seeing disabled people of all ages fully included in life of our churches. We've a first class line-up of speakers and a full programme with streams for Children's workers, Youth workers, and for Families and Adults.
For more information click on the Enabling Church tab or go to http://churchesforall.org.uk/enablingchurch/conf2016/.