Coming up – Ability Sunday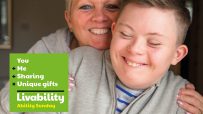 September 8 is Ability Sunday! Livability is inviting churches UK-wide to join together and mark out the 8th September 2019 for Ability Sunday- a special day in their community.
Ability Sunday is about running a day of inclusion and participation in your community, with special consideration for the needs of disabled people.
Churches and communities are richer when everyone is taking part. Ability Sunday is your church's opportunity to celebrate the gifts of disabled people.
It also gives your church a moment to reflect on whether your church could be more caring and welcoming to disabled people, their families and care workers.