Coming up: Disability Sunday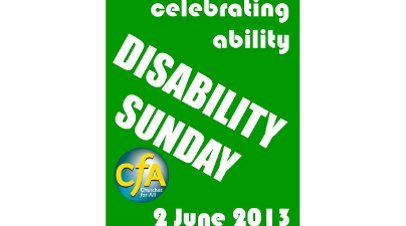 Disability Sunday is 2nd June. In addition to the 2013 Disability Sunday pack some other resources are now available to help you plan your Disability Sunday service: a list of hymns and songs to select from and a collection of prayers and prayer pointers to inspire your own prayers.
With the theme Celebrating Ability, this is a day for UK churches and fellowships to focus on celebrating the abilities of disabled people.
Click here to go to our Disability Sunday page and get your copy. And if 2nd June doesn't work for your church then simply choose another Sunday!