Glen Graham, Chair
Rev Glen Graham, Chair of the Churches for All partnership, introduces himself …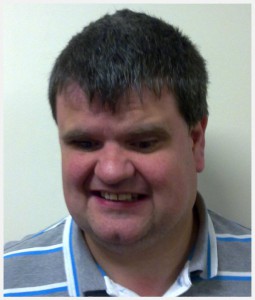 I was born in Cumbria and grew up in Edinburgh. I was blind from birth so went through the special ed system.
My first degree was in political philosophy at Swansea University. Whilst there, I supplemented my income as a disability equality trainer. I was disability officer for the Student's union, and chair of the Swansea access group.
Whilst at university, I sensed a call to ministry and went to train at Bristol Baptist College in 1995.
In 2000 I began my ministry in Malborough in South Devon. My second pastorate was in a challenging Church in inner city Plymouth. I am currently the minister at Cullompton Baptist Church. I have chaired two Churches' Together groups. I am a retreat leader and spiritual director.
I have been a member of the governing council of the Baptist Union since 2006. I have chaired the BU Disability Justice working group since it began in 2011. We address access issues and produce awareness training for local churches. I also go in to colleges to teach disability theology. I have been a trustee of three charities.
I am married to Rowan and we have 2 dogs and 5 cats.