Make yours an Accessible Carol Service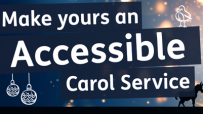 Are you planning your Christmas services. For many churches the Christmas Carol Service is among the best attended activities of the year. It's an occasion where many who don't regularly come to church come. So it makes sense that anyone who comes can get in, join in and be a part of it just like anyone else.
To help you make yours an Accessible Carol Service, we have put together a video and guidance pack that you can receive for free. Visit the Accessible Carol Services resources page.