Ability Sunday
Ability Sunday 2019 is 8th September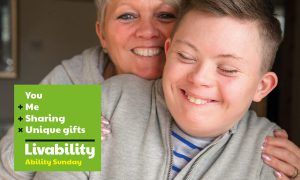 … a day of inclusion for churches that celebrates the gifts of all.
(or if 8th September doesn't suit your church calendar choose another Sunday!)
Livability is inviting churches UK-wide to join together and mark out the September 8th 2019 for Ability Sunday – a special day in their community.
Ability Sunday is about running a day of inclusion and participation in your community, with special consideration for the needs of disabled people.
For Ability Sunday Livability provides churches with an information pack giving resources and ideas for the day, a sermon outline and video content for use on the day.
To find out more and to register for a pack follow this link.