Disability Sunday: 5th July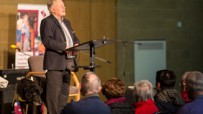 Disability Sunday is coming up soon. A recent survey by SCOPE revealed that 67% of people admit to avoiding disabled people.  Often, this stems from anxiety about unwittingly offending or encountering needs one cannot meet.
When Through the Roof – one of the partners in the Churches For All network – surveyed disabled people about their experience of church, their greatest heart-cry was a longing for real, deep, reciprocal friendships between disabled Christians and their fellow church members.
In response to these findings, the theme of Disability Sunday this year is friendship. We will be encouraging churches to explore what the Bible says about friendship, and demonstrate how building deep friendships with disabled people will transform not only their lives, but the whole church and ultimately the world.
Churches for All is again providing a downloadable Disability Sunday pack for use in churches.  New this year are the interactive sermon outline, a drama, resource booklet and materials for Sunday schools and youth groups.
Churches for All partners and associate are working together to create a world where disabled people can participate fully in church life for the benefit of all.