Enabling Church on Kindle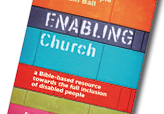 ENABLING CHURCH – hailed as 'a great addition to books that can be used to look at how we can best serve the whole population in an open, welcoming and inclusive way' – can now be yours in less than a minute! The title is now available as a Kindle download, priced by Amazon at £6.83: http://www.amazon.co.uk/Enabling-Church-resource-inclusion-ebook/dp/B009FR5X8I/ref=tmm_kin_title_0
ENABLING CHURCH has been written by Torch CEO Dr Gordon Temple with writer Lin Ball, with the aim of resourcing Christians who want to understand disability from a biblical perspective.
Early reviews have been positive, praising the book for its positive messages on inclusion, acceptance and inter-dependency. The material in the book is presented in seven sessions ideal for small groups, with Bible study discussion questions, activities, prayer and worship suggestions, and real-life interviews with disabled people – but all of it can be used very flexibly by individuals and churches in different ways. The book has been commended for dispensing with jargon and also for being a platform for the voices of disabled people.
The book 'does just what it says on the tin,' says Disability Advisor Wendy Bryant. 'There is a good selection of imaginative exercise aimed at helping us to understand the experience of disability, and to explore our own attitudes, and the accounts of personal experiences help to bring the book alive.'
ENABLING CHURCH has been published as a standard 112-page paperback (by SPCK) and in braille, large print and audio editions (from Torch Trust). The standard print edition is available from Through the Roof on-line shop and from other Churches for All partners too.