Livability + Prospects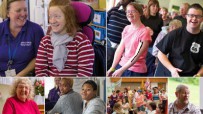 On 11th May 2016, Prospects joined Livability in an important new chapter in the charities' stories. Initially joining the Livability group structure, Prospects will be a fully integrated part of Livability within 2 years. Both Prospects and Livability are partner organisations in Churches for All.
Motivated by a dynamic and inclusive Christian ethos and with a clear commitment to disability care and social inclusion, both charities have identified significant areas of shared mission and strategic alignment.
Placing the people we support at the heart of all we do, our charities will be combining strengths and expertise to deliver a broader portfolio of care services, church and community projects around England, Wales, Scotland and Northern Ireland.
With Prospects joining Livability, we can enhance our services; raise wider disability awareness; partner with churches UK-wide, mobilise a broader supporter base; and maximise our effectiveness and sustainability.
Both charities are major providers of disability services, partnering with churches and other local agencies in the delivery of care and community work.