Resounding Success says Bishop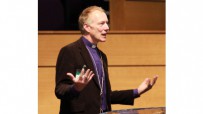 'The Enabling Church conference held in the diocese was a resounding success,' says Bishop of Wolverhampton, Clive Gregory, 'Church should practise a generosity that reflects the abundance of God's grace'

People came from as far as Aberdeen and Cornwall to this conference, which examined the role of disabled people in the Church and which was organised by Churches for All and sponsored by the Bishop of Lichfield's 2014 Lent Appeal and Premier Christian Radio.
The focus of the conference was on enabling churches to include and encourage disabled people – not just to attend, but to welcome and acknowledge them for the distinct perspectives, insights and gifts they bring to congregations.
'Honesty demands that the Church has not always been on the side of people with disabilities,' said Bishop Clive in his opening speech. 'Like many other institutions in society, we have succumbed to prejudices that have excluded those whose vulnerabilities have made other people feel vulnerable.
'But we are here as part of those who seek to address that past, those who are passionate in our belief that the Church as much as society should practise a generosity that reflects the abundance of God's grace.'
Over 400 people, very many of them disabled themselves, gathered for the conference. A total of 17 organisations were represented in the range of speakers and in the exhibition space.
Keynote speakers included the Church of England's National Disability Adviser Roy McCloughry and National Adviser for Deaf Ministry Gill Behenna. Two thought-provoking speakers came from the USA: a special video message was recorded for the conference by Joni Eareckson Tada who became a quadriplegic after a diving accident aged 17 and has been serving families with disabled members for 35 years; and Randy Lewis who developed the 'NOGWOG' Disability Initiative as a result of his position as Senior Vice President of Walgreens (similar to Boots the Chemists in the UK, of which it is now part-owner) which provides an effective, low-cost and sustainable disability-hiring model for employers.
As well as the video produced by the Diocese of Lichfield (click here to watch video), sound recordings were made of the plenary speakers and streams and are available only with the video contrubution from Joni Eareckson Tada on the Enabling Church pages, along with links to partner organisations offering a range of resources for churches wanting to engage with this topic.
Disability Sunday is 6th July – take the messages and meaning of Enabling Church to your local church and make 'enabling church' a reality in your community