Conference appreciation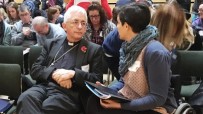 The recent Enabling Church 2016 conference entitled No Limits: Additional Needs, Disability And The Church drew people from churches across Britain together to  to help create churches where disabled people belong. It was aimed at those who work with or support children, families and youth or simply have a desire to see everyone's abilities recognised.
The Conference opened with worship and an address from Bishop Michael from the Diocese of Lichfield. Here's a link to the news item on the Diocese website.
Lynn McCann, one of the speaking team, reflected on the day, 'My overall blessing was just the inclusiveness. Worshipping with people of all abilities is what feels like real church to me. Meeting so many people with the same aims was also really special.'
Audio recordings and transcripts of the sessions will soon be posted on the Enabling Church pages of this website, and a video giving an overview of the conference too.
Find out more about Enabling Church from Churches for All.