Disability Sunday 2013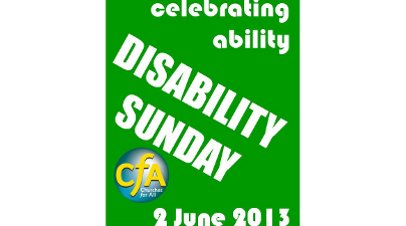 Disability Sunday for 2013 is 2nd June.
It's an opportunity for your church to celebrate the abilities of disabled people, perhaps engaging disabled people within the worship of the church or bringing a Christian approach to disability topics through the teaching and content of the service. The Enabling Church book offers a rich resource to draw upon and nearer the time Churches for All will be offering a downloadable pack to help plan Disability Sunday.
Don't worry if the date doesn't suit your church programme. Simply choose another day.
You can download the pack produced for Disability Sunday in 2012 called Redefining Ability.